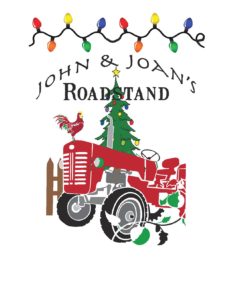 If you are looking to create a family tradition you've come the right place! In fact there are many families that continue to select their Christmas tree from the Stand each year even after their children are grown and many of those grown children that continue the tradition with their own families.
Christmas music, candy canes, a friendly helper to assist you in selecting your tree and tying it to your car. Live close and need your tree delivered? Just ask!
Check out our Christmas picture gallery a found at the bottom of the page.

Christmas Trees
Fraser Fir – Voted # 1 Christmas Tree, according to The National Christmas Tree Association.
The Fraser Fir is known for its fragrant scent. It also has a perfect form and holds its needles well, even after cutting (assuming it's well-watered). The needles are a silvery-green color, about 1″ long, and softer than many other evergreens. Its sturdy branches are able to hold heavier ornaments.
Stand Strait Tree Drilling System:
We use the Stand Strait Tree drilling system which allows for an easy, no fuss set up. Once drilled, the tapered hole in the tree fits over the tapered pin in the tree stand as shown below and the tree stands straight.
Here are some details on the drilling system that we use:

Stand Strait Tree Stands:
Simply the best tree stand you can own. This tree stand features a vertical tapered pin in the center. When coupled with the matching vertical hole that is drilled into the tree trunk, the tree immediately stands straight with no adjustment.
Universal Tree Stand for use with Stand Strait drilled and non-drilled Christmas Trees.
Watch how easy:

Grave Blankets:
Grave blankets are popular in northern climates and are often placed on graves before the first snow as a symbolic way of keeping deceased loved ones warm.
Our hand made grave blankets are available in different sizes such as standard, pillow, and double wide. They are complete with homemade bows. Custom orders are welcome.
Wreathes
Christmas wreathes are available beginning just after Thanksgiving. We have the standard sizes on hand such as 12 inch which is perfect for your front door and 14 inch which looks great hanging anywhere outside or inside your home. Larger or smaller sizes are available upon request. We also welcome custom orders.
Picture Gallery: